What is a Google My Business Listing?
Google My Business (GMB) is a free tool created to help businesses manage their online presence across the Google platform. A Google My Business listing (or account, or profile) can be considered a combination of an online directory listing and a social media profile. Not all businesses can have a listing however, those with physical locations, mobile businesses, individual practitioners and service area businesses are typical examples that can. Examples that can't are brands, organisations, artists and only online businesses.
A complete and optimised Google My Business listing is absolutely important for all businesses no matter the size as it directly impacts how many people find you on Google when searching for your brand, service or products.
Google My Business Provides Quick Information for Your Customers
A Google My Business Listing is important because it gives customers insight and information about your business. Phone number, address, photos, videos, business hours, website link and reviews are all readily available in one convenient place for your customers.
Often users are just searching for contact details, location, and business hours. When they do a search they will type in your business name. Mostly likely the information they will see first is your Google My Business listing, especially if they are searching on a mobile device. Therefore it is vital that all businesses claim, verify and update the content within their Google My Business listing.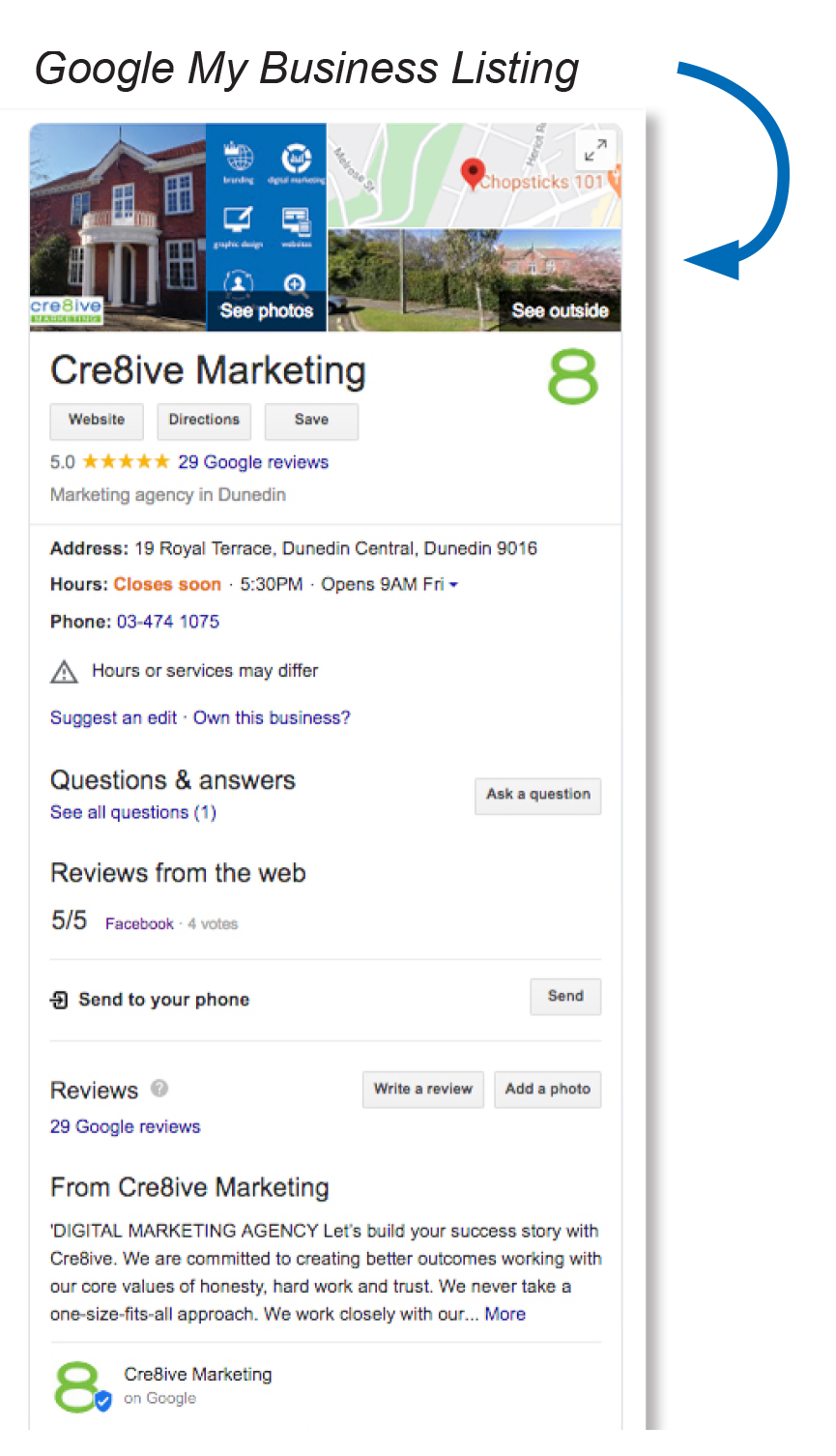 Google Owns It, You Can Claim It
Claiming your Google My Business listing puts you in the driver's seat. It gives you complete control –over what is seen here. It's important to note that even if you haven't claimed your listing, it is likely Google already has one made. Google is filling it with information they have gathered or that customers have added, which could include information that is inaccurate, and could potentially harm your business' success. Therefore, claiming the profile gives you complete control over the information, which is displayed, ensuring its accuracy. You will see something like "own this business" or "manage this listing" about half way down the GMB box – click on this link and you will see whether the listing has been claimed, and if so, which email claimed it. Or it will show you that it hasn't been claimed and you can follow the steps to claim it.
Verify Your Google My Business Listing
Once you have finished completing your information you will need to verify your listing. Until you verify, Google inputs information from other locations online that may not be accurate or up-to-date. Verifying is simple to do, and can help you control the information Google is providing to customers, which will benefit your business in the long run and you'll be able to:
allow new customers to find you across Google
create promotional posts
track business analytics
respond to customer reviews
Anyone Can Make Edits to Your Listing
It is vital to complete your company's information because anyone can suggest an edit to your business listing, including your competitors.
When someone clicks on "Suggest an edit", it gives them the opportunity to make some pretty dramatic changes to your listing.
Many times, these "suggestions" are immediately made live on Google, even if you don't approve them. That's why it is of utmost importance to proactively monitor and manage your Google My Business listing.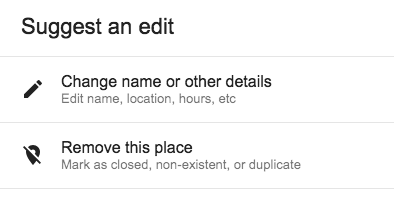 Improves Local Google Search Rankings
Having a Google My Business listing also improves local search rankings. It's known that the top three to five results of a google search are the most important – so how do get you get there? One step in improving your ranking is to, believe it or not, complete your Google My Business profile! This shows Google that your business is trustworthy and reliable, and Google will better align your business with accurate search results. Google also uses the primary category that you choose for your business listing to help better match your listing with what people search for, so it's vital that you ensure an accurate category is selected.
Show up in Google's Local 3-Pack
Simply creating a listing increases your odds of showing up in the Google Local 3-Pack list which appears before all of the organic results so it greatly increases your visibility.  About 44% of all clicks go to the 3-Pack.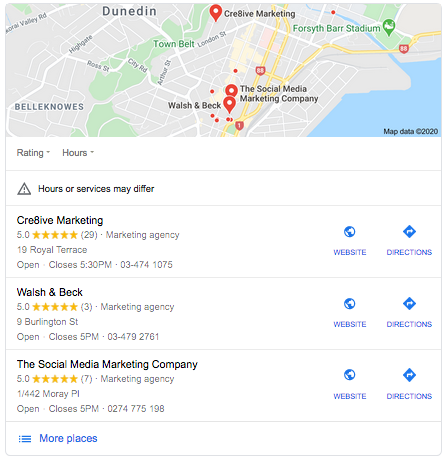 Google Online Reviews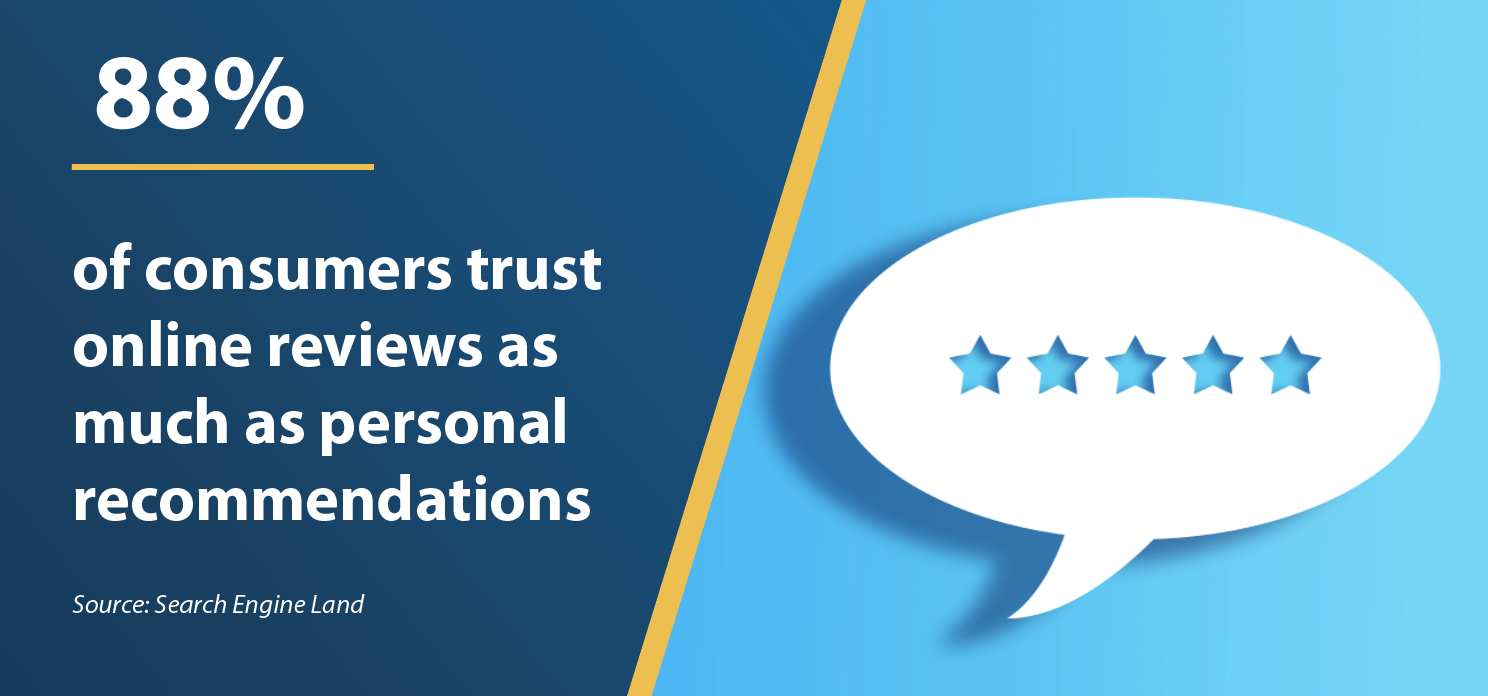 Arguably one of the most important features of the Google My Business listing is the section specifically for feedback. Potential customers who search for your business can read reviews from your other customers – this helps them make the decision whether to do business with your company or not. You can encourage feedback from customers to be posted on the Google My Business listing by providing them with a quick review link.
Note: if your listing is deemed 'equal' in terms of value (rated by Google) with a competitor's listing, if you have more quality reviews than your competitors, then your listing will appear higher.
Once you have a review – whether positive or negative, you must respond. Use your responses to build your brand; affirm positive experiences and addressing negative reviews helps change the perception of the reviewer and reader, shows you care, gives the reader insight on the issue and ultimately helps your online brand reputation.
Google My Business App
Managing your Google My Business listing can now be done via the Google My Business App (for iOS and Android) which allows for easy editing on the go. Share information on upcoming offers and events, engage with customers in the review section, and quickly upload photos or videos directly from your smartphone or tablet.
Overall, creating and optimising your Google My Business listing will…
Give customers all the information they want in one easy location, including reviews which could convert more visitors into paying customers
Improve your Google ranking – help your business to appear higher in local search results
Increase engagement – drive more traffic to both your website and physical location
Star ratings help establish trust, credibility and will boost your appeal
Provides another platform for you to stand out from your competitors
A Google My Business listing is basically free advertising space on Google
Build your brand, increase visibility, and grow your business
Google My Business Audit
If you are unsure about how to best optimise your Google My Business listing, we offer an audit of your listing which will show you where improvements can be made. You will also receive our comprehensive, step-by-step guide with our best tips and actionable tactics to help you get more visibility on Google, generate more leads and engagement.
Get Our Google My Business Experts to Help Manage Your Business Listing
Need help creating eye catching Google Posts visuals? We can help, as well as manage your other Google My Business features, reviews and more. Gain the edge you need to stand out and take control of your local, branded search results. Email us to find out more cre8ive@cre8ive.co.nz.