A QR code (Quick Response) is essentially a two dimensional Barcode that was created by Denso Wave, a subsidiary of Toyota, in 1994. They have largely been unused until recently, due to improved technology. QR codes have the ability to hold large amounts of information and their ease of use have made them an ideal tool for businesses and consumers alike.
Soon these codes will have widespread use as consumers want immediate access to what's relevant and QR codes are being used to make that possible.
In order to access a QR code a smartphone is required and a free application called a QR reader (some smartphones have this built in). The QR code is then able to be scanned and the information from the code is directly 'uploaded' into the phone. It can activate a number of phone functions including email, IM and SMS; and connect the mobile device to a web browser.
Some specific examples a QR code could link to:
• Installation instructions
• Sources for replacement parts and service
• Directions to your business
• Valuable coupons and special offers
• Customer feedback forms
• Twitter link
The GrabOne vouchers have QR codes, which contain the voucher number making it handy in case you forget the print out. Are you familiar with the Entertainment Book? Singapore's version is full of QR Codes! We added a QR code onto an engineering supplies catalogue magazine for our client, Wilson Bros & SaecoPrecision.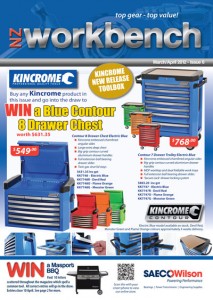 Practical Uses of QR Codes for Businesses
There are limitless applications for QR Codes in business. QR Codes can be physically attached to products, on advertisements and other forms of marketing.
• Your business card
• Your brochures and other marketing materials
• Advertisements
• Vehicle Signage
• Product tags and packaging
• Tradeshows
• Restaurant menus
• Event tickets
How Do I Get a QR Code?
QR Codes can be generated through many free online services and the code is universal. It's a simple process of entering the appropriate data into the QR code generator and voilà it is created.
How you can you Maximise the Effectiveness of QR Codes
It is important to educate your target market not only about the benefits of QR codes but what they are and how to use them, as they aren't yet prevalent in New Zealand.
• Provide explanations about their use and benefits
• Encourage actions that support your marketing plan
• Assuage the fears of the technically challenged
• Give reasons to come back
• Experiment with the size, location, and color of your QR codes
• Study your analytics
• Experiment
Benefits to the Consumer
QR Codes enable the user to scan the code, open the link and research the information immediately. The link is also saved for continued access.
Where is more information available?
There is a wealth of information available on the web but if you would like tailored help to provide you with the best solution for your requirements then please contact us on 03 474 1075.
If you are visual person and still need a bit more explanation here is a link to a helpful video
https://www.commoncraft.com/video/qr-codes
A clever use of a QR code for the company Victoria's Secret.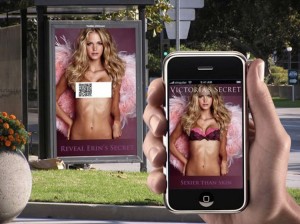 References
https://www.socialmediaexaminer.com/how-qr-codes-can-grow-your-business/