As the countdown to Christmas is on, now is the perfect time to really ramp up your social media marketing efforts with the goal to see a spike in revenue with our 12 social media tips for Christmas promotion.
Establish your Goals
How can you measure your success if you don't know what you want to achieve? Examples of goals might be to increase sales, increase volume of website traffic or have more newsletter sign ups. Use website statistics such as Google Analytics and Facebook Insights to measure the effectiveness of your campaign.
Create a Content Calendar
Reduce stress and errors by preparing in advance your content and when it will go live.
Begin with key dates, special offers and events you may have planned etc. There is no right or wrong answer as to when to post or how much to post but establishing a regular cadence that your audience can come to rely on is a great start. However in saying that, an indication for Students is not to post on Friday/Saturday as they don't tend to be on Facebook as much then.
Try Facebook advertising
Did you know that only 2% of your fans will see your posts on Facebook? As a low cost way to increase your audience reach you should experiment with Facebook ads.
This highly targeted form of advertising is an ideal way to ensure important posts are seen by your fans or others in your target market.
Each ad you create, you can choose how much you want to bid to have your ad shown to your target audience as well as the option between cost per click (CPC) or cost per 1000 impressions (CPM). Budget control is completely at your discretion.
To give you an idea of what you might pay, Statista reports that in Q3 of 2014, ecommerce businesses saw an average cost per click of $US 0.49 on Facebook.
Don't forget Twitter
If your target market uses Twitter, then it will be just as important as Facebook for building an engaged audience.Zaggora, a fitness wear brand, held a contest on Twitter for Christmas. They asked followers to post a hilarious photo showing off their Christmas gifts.
Entry criteria was simple: use the #zaggora hashtag to enter. The winner received a selection of Zaggora fitness clothes. It was a very simple yet successful campaign for them, increasing their brand and product visibility.

Last year there were over 282 million Tweets from around the world about holiday shopping. The Twitter Business Blog contains some interesting stats for the upcoming holiday season:

of Twitter users are likely to purchase something from a small business they follow on Twitter

of Twitter users are likely to Tweet about their holiday purchases

of Twitter users are planning to use Twitter for holiday shopping
Follow the 80/20 Rule
 of social media posting
Ensure that 80% of your tweets/posts drive interaction and offer value to your followers. The other 20% use for direct offers or 'selling' type messages. Facebook is cracking down on 'overly promotional' organic posts so if you post too often "Buy now", "Join now", "Sale on now" and so on, less and less of your fans will see these messages. Read our article about overly promotional posts.
Get Creative with your Imagery
Attract interest by creating customised Christmas cover images/backgrounds/post images for each social media platform.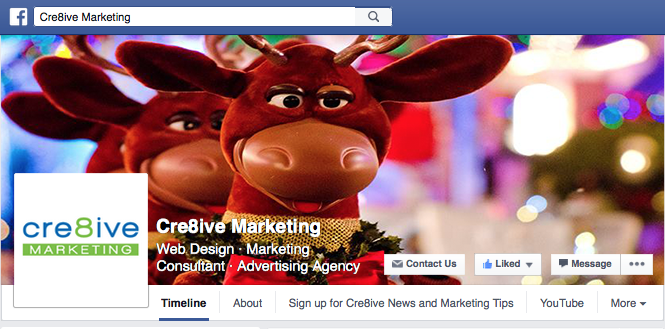 Give Tips for Christmas that are tailored to your audience
Try to focus on providing some genuinely helpful information such as weather forecasts, gift ideas, travel tips and Christmas recipes. Find a way to tie these themes into your business and promoting your product and how it can be used during the festive season.See this example from Thermomix, which produces a multi-function kitchen aid, where they created a festive drink to promote their product without actually mentioning it or any reference to purchasing.

Respond Rapidly
Gone are the days of getting back to your clients in 24 hours. Today you've got to make every effort to get back to them within 1-2 hours - this applies not just to email but to social media messages as well.
Different demographic groups use different social media platforms
Adjust your posts/tweets and imagery for each individual platform and target market. What works in Facebook may not work in Twitter.
Run a contest
Creating a contest is a great way to engage your audience and generate content on your social media site; incentivise your target market to sign up to your database by offering a prize or deal.
Create a Facebook App
To make your e-mail audience bigger, create a Facebook App and encourage your visitors to sign up there. You can also promote special deals and offers through this tool.
Drive Traffic
Most important of all, use Social Media to drive traffic to your website. When posting or tweeting include a link back to your website, when relevant.
If you need assistance with your social media marketing whether it be planning content ideas or Christmas imagery, please call 
03 474 1075 or email Philippa.